Earn Your Hybrid DPT From Arcadia University
Earn Your Hybrid DPT From Arcadia University
Earn Your Hybrid DPT From Arcadia University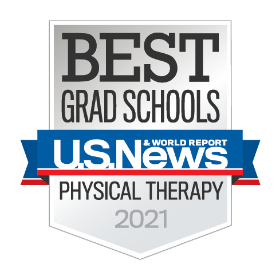 Arcadia University's hybrid Doctor of Physical Therapy (DPT) program prepares aspiring physical therapists to become the next generation of innovative, patient-centered practitioners.
Designed by the same world-renowned faculty from the College of Health Sciences' on-campus DPT program, Arcadia's hybrid DPT program positions graduates to enter the field as skilled, evidence-based clinicians, who may then choose to become educators, researchers, practice owners and managers, and authors.
Why Arcadia's Hybrid DPT Program?
Preparation for Licensure: Our curriculum purposefully prepares graduates to pursue licensure and sit for the National Physical Therapy Exam. Since 2016, 100% of on-campus students passed the national licensure examination with greater than 95% of students passing on their first attempt.3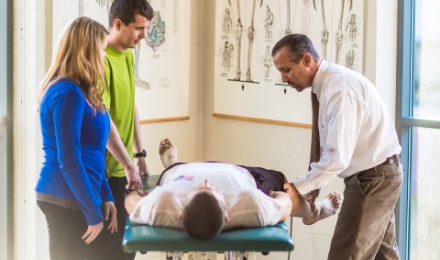 Acclaimed Faculty
DPT faculty model and pursue scholarship, innovative teaching, and leadership. Faculty are recognized FAPTA associates, textbook authors, editorial board members of leading national journals, and officers of APTA specialty sections.
In-Field Preparation
With expert guidance from our faculty and affiliated clinical instructors, our hybrid blend of online courses, in-person immersions, and clinical education experiences enable students to apply classroom principles to real patients.
Program Overview
25
months to complete
2
part-time clinical
experiences in the first year
32
weeks of clinical
education experience
Each course of the patient-focused curriculum is built so that students can apply the material to the patient, enabling them to develop their skills as they advance through the program.
Pursue a Fulfilling Career and Start Changing Lives
By combining the accessibility of online classes with on-campus immersions and in-person clinical education experiences, Arcadia's hybrid DPT program enables you to learn in a highly collaborative and engaging setting while delivering valuable hands-on experience.
Connect with an Arcadia hybrid DPT program admissions counselor and find out how the hybrid model can prepare you to become a skilled, service-oriented physical therapist.
GRE and bachelor's degree required.
Join a community of DPT scholars committed to excellence, cultural diversity, and integrity.
Request information to find out how Arcadia's hybrid DPT program can position you to become part of an exciting and rewarding profession as a licensed physical therapist.